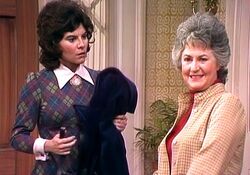 Adrienne Barbeau as Carol on "Maude".
Personal Information
Gender:
Female
Character
description:
Although liberal like her outspoken mother, often clashes with her on certain issues
Domestic partner(s):
Chris (boyfriend)
Character information
Appeared on:
Maude (TV series) / All In The Family 1 episode
Episodes appeared in:
AITF: "Maude" (Season 2, episode #24)
Maude (TV series): 95 episodes in series
Character played by:
Adrienne Barbeau / Marcia Rodd
Carol Traynor, is a character who first appeared in the Season 2 (episode #24) episode of All In The Family titled "Maude", which would serve as a backdoor pilot for a series spinoff, the CBS-TV sitcom series Maude. The part of Dixie is played in the AITF episode by Marcia Rodd, who was replaced in the role for the Maude TV series by Adrienne Barbeau, who would appear in a total of 95 episodes of the series.
About Carol
Edit
Carol is Maude's daughter from her first marriage, who is also divorced and has one child, like Maude. Carol and her son, Phillip (played by Brian Morrison and later by Kraig Metzinger), both live with the Findlays. Though single, Carol maintains her reputation of dating many men. She dates various men throughout early seasons, initially forming a serious (but brief) relationship with a man named Chris (played by Fred Grandy).
Like her mother, Carol is an outspoken liberal feminist who is not afraid to speak her mind, though they often clash on certain issues, such as men, dating, and relationships, as they've both been divorced (Maude twice) before, and also as the generation gap between the two often comes into play, as well, as Maude still tries to connect with Carol, who's just about liberal and outspoken as her mother is on the current events.
Ad blocker interference detected!
Wikia is a free-to-use site that makes money from advertising. We have a modified experience for viewers using ad blockers

Wikia is not accessible if you've made further modifications. Remove the custom ad blocker rule(s) and the page will load as expected.