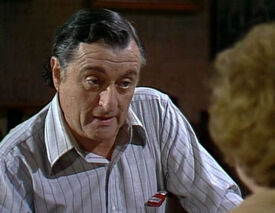 Harry Snowden was a friend of Archie's and a popular bartender at Kelcy's Bar, who continued to work there after it became Archie Bunker's Place. He eventually became Archie's business partner. The part of Harry was played by veteran character actor Jason Wingreen.
Harry and Kelcy's Bar / Archie Bunker's Place
In the two-part Season 8 episode "Archie Gets The Business", Harry was the first to approach Mr. Kelcy about buying the bar, but Kelcy clearly stipulated that the person who came up with the purchase money first would get the business. Archie managed to come up with the cash first (and beat out Harry) by taking a mortgage out on his house, which the Bunkers had already owned outright. Archie became the manager/owner and Harry remained as bartender - that was until they fought on opening day and Harry walked out. With Harry gone (and his loyal customers deserting as a result), Archie's business suffers immediately and faces certain failure. Archie stubbornly realized that he had only one choice: entice Harry to come back... as a business partner with equal say and standing. Harry hated the idea of working with Archie but eventually agreed, finally realizing part ownership in the bar.
In the two-part Archie Bunker's Place episode "Archie's New Partner: Part 1" and "Archie's New Partner: Part 2", Harry wanted no part of Archie's plans for an expanded bar and grill and threatened to sell his half-interest in the business and leave. Archie refused to compromise, but had no means of buying out Harry's share. Harry made a deal with another investor Murray Klein (Martin Balsam), who was Jewish, and sold out; Murray kept him on as bartender - Archie was, predictably, not happy with this arrangement. (About a year and a half later, at the end of Season 2, Murray would sell his half back, marry his fiancee and move with her to California.)
Ad blocker interference detected!
Wikia is a free-to-use site that makes money from advertising. We have a modified experience for viewers using ad blockers

Wikia is not accessible if you've made further modifications. Remove the custom ad blocker rule(s) and the page will load as expected.