Harvey Lembeck appeared as Wally, a lodge buddy of Archie's who helps pull a prank on him in the Season 8 AITF episode "Archie's Other Wife".

Born

(1923-04-15)April 15, 1923

Birthplace

New York City, New York, U.S.

Died

(1982-01-05)January 5, 1982

Deathplace

Los Angeles, California, U.S.

Occupation

Actor

Years active

1947-1982, his death

AITF guest appearance

as Wally in the episode "Archie's Other Wife" in Season 8
Harvey Lembeck (April 15, 1923 – January 5, 1982) appeared as Wally, a lodge buddy of Archie's who, along with the other buddies and Marabel, (Jonelle Allen), a stewardess his date, play a practical joke on Archie in the episode titled "Archie's Other Wife" in Season eight of All In The Family.
About Harvey
Edit
A gifted comedic actor, Harvey is perhaps best remembered for his role as Cpl. Rocco Barbella on The Phil Silvers Show (a.k.a. Sgt. Bilko) in the late 1950s, and as the stumbling, overconfident outlaw biker Eric Von Zipper in beach party movies during the 1960s. He also turned in noteworthy performances in both the stage and screen versions of Stalag 17. He was the father of actor/director Michael Lembeck and actress Helaine Lembeck.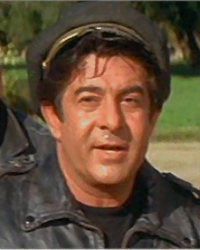 Lembeck continued to perform and teach up until his death from a heart attack on January 5, 1982. He was performing in an episode of Mork and Mindy when he took ill, collapsed and died. In an interview taped shortly before his own death in 1985, Phil Silvers said he was shocked and saddened by the untimely death of Lembeck, and missed him terribly.[1]  
Selected filmography
Edit
You're in the Navy Now (1951)
The Frogmen (1951)
Just Across the Street (1952)
BBack at the Front, a.k.a. Willie and Joe Back at the Front (1952)
Mission over Korea (1953)
Stalag 17 (1953)
Between Heaven and Hell (film)
Vu du pont (A View from the Bridge, 1961/1962)
The Last Time I Saw Archie (1961)
Love with the Proper Stranger (1963)
Beach Party (1963)

Bikini Beach (1964)
Pajama Party (film) (1964)
The Unsinkable Molly Brown (1964)
Beach Blanket Bingo (1965)
The Wild Weird World of Dr. Goldfoot (1965) (TV)
How to Stuff a Wild Bikini (1965)
The Ghost in the Invisible Bikini (1966)
Hello Down There (1969)
There Is No 13 (1974)
Raid on Entebbe (1977)
The Gong Show Movie (1980)
Theatrical appearances
Edit
Mister Roberts (2/18/48; Alvin Theatre) - Insigna. Also appearing: Karl Lukas, Tige Andrews, Murray Hamilton (all from The Phil Silvers Show)
Stalag 17 (5/8/51, 472 performances). Also appearing: Robert Strauss, Allan Melvin, Bob Shawley (all from The Phil Silvers Show; Strauss and Lembeck appeared in the filmed version)
Wedding Breakfast (11/20/54-2/26/55, 113 performances, 48th Street Theatre) - Norman
Phoenix '55 (with Nancy Walker)
Oklahoma! (3/19/58-3/30/58; 16 performances, New York City Center)—Ali Hakim
Man of La Mancha—Sancho Panza (touring company, also performed at the White House for President Lyndon B. Johnson)
References
Edit
↑ Interview taken from Sgt. Bilko - 50th Anniversary Edition (The Phil Silvers Show) DVD
External links
Edit
Ad blocker interference detected!
Wikia is a free-to-use site that makes money from advertising. We have a modified experience for viewers using ad blockers

Wikia is not accessible if you've made further modifications. Remove the custom ad blocker rule(s) and the page will load as expected.